WVSTC believes companies and non-profit organizations play a key role in supporting schools for the ultimate benefit of students. Few schools are implementing online, blended, or digital learning without the help of one or more outside organizations providing content or support for teaching, courses, professional learning, strategic guidance, quality assurance, and technology platforms through their products and services. Third party providers play a key role in helping schools better understand best practices across the field. Sponsoring WVSTC is another way to show your commitment to supporting schools in providing the best possible education for their students.
The Exhibitor Expo at WVSTC 2022 will provide exhibitors the opportunity to showcase their products for approximately 500 attendees from around the state. As an exhibitor, you will enjoy the following (based on previous conference data):
Approximately 28% of the attendees are first-timers
High visibility/accessibility to both conference attendees and the public
Participate in the exhibitor track as a WVSTC 2022 presenter
WVSTC 2022 is the perfect setting to display and share your most advanced solutions with our diverse customer base.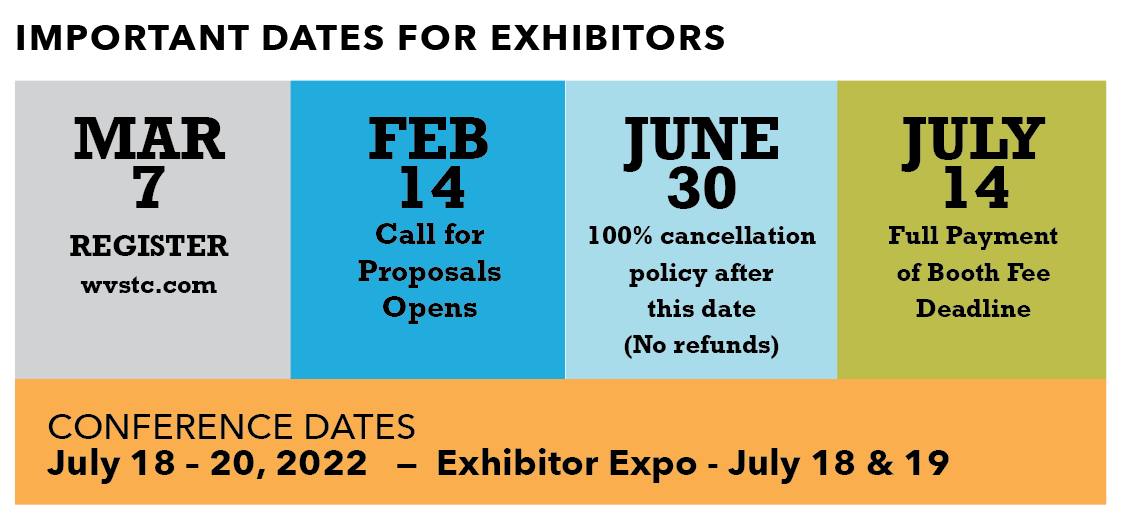 Exhibitor
Benefits
Direct Access to more than 500 Participants: The Conference is large enough to assure widespread exposure, yet intimate enough to ensure lasting impressions.
High Traffic Area: Exhibits will be set up in the Morgantown Event Center with hospitality events held in the Event Center every day to ensure high traffic and high visibility.
Preconference and Onsite Visibility: Your company listing with a hotlink will be on the Conference web pages. Also, a complimentary listing of your company will appear in the final Program.
Special Sponsorship Opportunities: Sponsorships are designed to maximize your company's exposure and profitability.
Attendee Contact Info: Pre and post lists of attendees that allow sharing of contact info.
WVSTC demonstrates its understanding of the importance of these third-party partnerships with a design and structure that supports sponsors, including: · A conference agenda with two major receptions combining poster sessions in the Exhibit Hall. No competing sessions are scheduled, and these events will generate conversations with exhibiting sponsors.
· Extensive networking areas will be set up throughout the space so planned or spontaneous conversations can easily be conducted in convenient, comfortable, quiet areas.
· Exhibitors are welcomed as session presenters and participants.
· A variety of additional opportunities are available for sponsors, and ideas about other opportunities not yet considered are welcome.
Exhibitor Contact Info:
Questions? Email us at Harmony Garletts at hgarletts@staff.wvnet.edu or Annaliza Marks at amarks@staff.wvnet.edu or call WVNET at 304-293-5192.